Greetings,
Our travels began on the 3rd of March when Hitomi and I headed to the San Francisco airport at 6am ready for our 8am flight to New York and then on to Istanbul. Blurry-eyed, we made our way to the Delta check in counter, and handed over our passports and E-ticket receipts. The agent began typing madly on the keyboard for a few minutes and then disappeared to go and find a superior. Several minutes later, she came back with her management, and they began whispering to each other while staring at the computer screen. They didn't respond to our questions when we asked what was going on, and after a few minutes they both disappeared. They were gone for more than 5 minutes, and Hitomi and I began to get a bit anxious. When they finally showed up again, they explained that the flight from New York to Istanbul no longer operated on Sundays (and hadn't for some time). Somehow Delta hadn't managed to convey this information to us (they had all of our contact information), and the agent wasn't the least bit apologetic about this fact. He just bluntly stated that Delta was honouring our contract and that our flights were being changed to fly through Atlanta, Paris, and then on to Istanbul. Of course the flights were nearly full, so we couldn't even sit together for the trans-Atlantic leg, and our new schedule had us leaving at 10am instead of 8am leaving us 3 1/2 hours to hang out in the SF airport. This was not an auspicious start, and needless to say, I won't be rushing out to fly with Delta again.
When we got into Istanbul, exhausted from our 24-hour journey, we hopped in a taxi and asked to be taken to the old historical center. The taxi ride quickly jolted us awake as he did his best Formula One impression. While lanes were painted on the roads, they were clearly only a suggestion as he dodged from left to right, and sometimes right between cars in adjacent lanes if it looked like there was enough room. As we approached the historical center, I tried to communicate the name of our hotel. The driver had never heard of it (and didn't speak any English), so I asked him to take us to the Four Seasons (the best hotel in Istanbul with a price to match ... about $400 US per night). As we pulled in front of the Four Seasons, I directed our driver the last 500 meters to our hotel by reading the guidebook's map and pointing out which way to turn.
Paying the taxi driver was a little confusing as you had to sort through the Turkish bills with all of the zeros and it is easy to miscount if you are not being careful. High inflation in Turkey has driven the currency to the point where a US dollar is worth more than 1.3 million lira. When you are not used to the bills, a 5,000,000 note and a 500,000 note look very similar, and reading prices can also be confusing.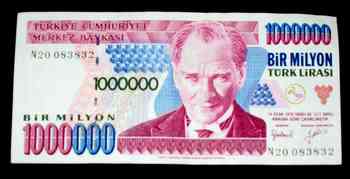 A Turkish one million lira note (worth about 70 cents US)
Hitomi's mother flew in on the next day (she would be traveling with us for the first week and a half), and we were soon ready to start tackling Turkey's sights. Istanbul (formerly known as Constantinople) has a deep history starting with Roman rule followed by more than 1000 years as capital of the Byzantine empire before eventually coming under the influence of the Ottoman Turks in the year 1453. Our hotel was within easy walking distance of a 1500 year old Christian church (later converted to a mosque), the palace of the Ottoman sultans, the famous "Blue Mosque", and an ancient Roman cistern.
| | |
| --- | --- |
| | |
| Entrance to the Topkapi Palace. | Entryway to a room in the harem. |
We started our visit with a trip to the Topkapi Palace which was built shortly after the Turkish conquest of Constantinople and was the home of the Turkish Sultans up until the middle of the 19th century. As the palace is spread out over a large area and is almost a small city in itself, the palace is not as visually striking as Istanbul's other monuments. However, it was fascinating to enter into the private world of the sultan (who was almost never seen outside the palace), and learn about the highly ritualized life the sultan and all those around him lived. You enter through a guarded gate, and emerge into a large park-like courtyard. Inside, you can visit a stunning collection of jewelry (including the 5th biggest diamond in the world), as well as wander through the quarters of the "harem" with its beautiful blue tiles and marble floors.
| | |
| --- | --- |
| | |
| The Blue Mosque by day ... | ... and by night. |
From the Topkapi Palace, we wandered next door to the Blue Mosque (so named because of the interior decorations of blue tiles), which is still a popular place of worship. Before we got there, we decided to have a "döner kebap" for lunch, and we sat in a quiet nearby park to eat it. As we started to eat, we noticed that a lot of people were walking by (and all in the same direction). Things became busier and busier, and there were soon so many people pushing past us that it became hard to eat. Many of the people were dressed in suits, so we started to wonder if it was just the lunch crowd heading to a popular dining area. However, shortly afterwards we heard the mosque speakers blaring with the call to prayer, and realized that the people were just on their way for the midday prayer.
| | |
| --- | --- |
| | The interior decorations of the Blue Mosque. The wires that you can barely make out are supporting hanging lamps. |
In Islam, the mosques call people to prayer 5 times a day (at dawn, noon, mid-afternoon, dusk, and dark) ... you can click here to check out what it sounds like. The call to prayer blasts from a speaker located in the mosque towers, and can be quite loud. The dawn prayers start out at about 5:30am, so if you want a good sleep, it is a bad idea to get a hotel right next to a mosque.
| | |
| --- | --- |
| | |
| The Church "Sancta Sofia". | The inside of the church showing Byzantine mosaics along with verses from the Koran. |
As interesting as the visits to the mosques and palaces were, my favourite Istanbul attractions were definitely the old Byzantine churches. The largest of these is called Aya Sofya (Sancta Sofia or Church of Divine Wisdom). It was completed in AD 537, and was considered the greatest church in the Christian world right up until the fall of Constantinople in 1453. The church is an amazing feat of engineering considering when it was built as the interior dome is massive and built without any interior pillars to support it. It was also very interesting to see that the church was converted into a mosque without noticeable changes to its original artwork. The pictures of Mary with Jesus were left alone, and verses from the Koran were added to give it an Islamic touch.
| | |
| --- | --- |
| | |
| A mosaic of Jesus in the Chora Church. | A view of one section of the Chora Church showing all of the mosaics. |
Another interesting church to visit is called the Chora Church. This church isn't nearly as big or impressive architecturally as the Sancta Sofia, although the inside of the church is plastered with stunning mosaics and a few frescoes. The artwork is in great shape, and you could spend years trying to interpret all of the biblical stories that are represented on the walls.
| | |
| --- | --- |
| | |
| The water and pillars below the ground in the Roman cistern. | A strange Medusa head at the base of a pillar. |
The last site that we visited in Istanbul was the ancient Roman cistern that sits right beneath the streets of the historical quarter. I didn't even realize it was there until Hitomi's mother pointed it out in her guidebook. You enter through a small building, pay your entrance fee, and then descend a set of dark steps into the depths below the street. It is eerie to step from the hustle and bustle of modern Istanbul down into the peace and quiet of the dark dripping caverns of an ancient cistern still filled with marble columns built by the Romans. At one location in the cistern, there are a couple of famous columns where the base of the column is a sideways smiling medusa.
| | |
| --- | --- |
| | Getting back into the traveling mode ... Hitomi is hanging up the laundry that we had just finished washing in the sink. |
After having our fill of Istanbul proper, we decided to to brave a night bus and head for the region of Turkey known as Cappadocia. Buses are an extremely popular form of transportation in Turkey, and as a result there is intense competition between the various bus lines. Each city also has a single main terminal, and since Istanbul is a city of 12 million bus-riding people, the Istanbul terminal is HUGE. You can see it from a distance as you approach, and there are about 3 floors spread over several city blocks. The bus company's service usually includes a free shuttle from the travel agent to the bus terminal, which saved us the hassle of trying to find the right bus amongst the 1000's of buses at the terminal. However, you still had to be careful. As we waited for the bus to leave, Hitomi and her mother decided to visit the restroom. The restroom was very easy to find ... you just needed to follow the signs that pointed left then right then up then across then down, etc. After a while, I began to wonder what was taking Hitomi so long, and then I noticed through the window a panic-stricken Hitomi asking for directions from a local shop. Not only was it hard to reverse your step back to the bus, but it was not easy to even recognize which bus was yours.
As a result of all the competition, the service on the buses is very good and the buses are modern and comfortable. Shortly after you get on the bus, the "steward" walks down the aisle and offers everyone a bit of "cologne" which is an fragrant alcohol based liquid that you rub all over your hands and then your face and hair if you like. At any point during the ride, if you'd like a drink of mineral water, all you need to do is ask, and at certain points during the ride, the steward hands out snacks and the choice of a hot drink (tea or Nescafe) or a soft drink. On one bus ride, the steward even used a little cart just like on an airplane.
Buying the tickets was also interesting. All of the seats are reserved, and great care is made to ensure that men and women who don't know each other are not seated next to each other. Since we were buying tickets for myself, Hitomi, and Hitomi's mother, it meant that one of the three of us would be sitting next to a stranger. The ticket offices would always ask who was taking the single seat so that they could mark it as male or female and make sure that that we were seated next to the appropriate gender.
| | |
| --- | --- |
| | |
| One of the interesting structures of Cappadocia. This one had a church inside. | An area of Cappadocia known as the land of the Fairy Chimneys. |
We managed to get a bit of sleep, but were soon wide awake staring at the stunning scenery of Cappadocia. Cappadocia's landscape has a lot of similarities to the canyonlands of Utah or the badlands of southern Alberta. However, in addition to its nature, Cappadocia also has a fascinating history. The strange formations are a result of volcanic activity 10 million years ago that left a soft porous material that eroded in strange ways leaving the structures you see today. The area was the heart of the Hitite empire some 3000 years ago, and they discovered that they could easily chisel their way into the side of the rocks and carve out homes. They carved rooms, shelves and stairs into the sides of the rock, and entire cities lived in custom built caves. If the family grew too large, you simply had to carve another room into the back of your house.
| | |
| --- | --- |
| | |
| A distant view of the "Fairy Chimneys" | A view of a different type of formation. |
We hired a car and driver for the day, and toured around the different regions. Each region had its own strange landscape and its own type of dwellings. Over the years, the caves were in use by different peoples, and at one point they were popular with the local Christians. As a result, many of the caves were used as churches, and they still have frescoes lining the walls. The first set of caves that we visited seemed like it must have been some sort of monastery as most of the caves were filled with frescoes.
| | |
| --- | --- |
| | |
| A fresco of Jesus from one of the caves with his face scratched off. | A view from the church looking out at another cave complex. |
Next we were taken to one of Cappadocia's underground cities. In addition to the strange above ground cave cities, there are at least 32 known cities in Cappadocia that were completely underground and not noticeable from the surface. The one we visited is the largest known city, and at one time housed 10,000 people completely underground. The city went as far as 8 levels underneath the earth, and had a complicated infrastructure including ventilation systems, small tunnels used for communications, stables where the horses could be sheltered underground, churches, storage rooms, a wine-making room, etc.
| | |
| --- | --- |
| | |
| Hitomi and her mother in one of the caves. | Descending into the depths down a narrow staircase. |
From the underground city, we headed to the canyon of the Ihlara Valley where you can hike through a beautiful gorge, and on the way visit some of the many churches that were hewed into the sides of the canyon walls. After a long day of hiking and driving around, we decided to reward ourselves with a nice set-course dinner at one of Goreme's better restaurants. The setting was quite formal, and we were seated by our well dressed waiter. He talked us into having the fixed-course dinner, and then asked us what we would like to drink. Cappadocia is somewhat famous within Turkey for its emerging wine industry, so we decided to try a bit of wine as well. There were a number of different wine labels on the menu, so I asked the waiter what he suggested. The waiter sort of squirmed and shyly said that he wouldn't know as he didn't drink alcohol. I felt rather insensitive afterwards ... of course in an Islamic country, many people don't drink any alcohol at all. It was just that in a fancy setting with a menu where I didn't know any of the wines, it just seemed natural to ask for a recommendation.
| | |
| --- | --- |
| | |
| A Cappadocia village with one of the volcanoes in the background responsible for the region's landscape. | Local tout trying to hustle the tourists into taking a ride. |
After a couple of days in Cappadocia, we decided to head to the town of Konya which is known for its religious fervor. The guidebook warned that you may get the feeling that you are an "infidel" from the locals in Konya, but we found just the opposite. The Turkish people were extremely friendly during all of our visit everywhere in Turkey, although unfortunately the ones that were the most genuinely friendly were the ones that spoke no English.
In Istanbul, it wasn't just English, but Hitomi and her Mother were accosted by Japanese speaking touts trying to lure people into their carpet shops. Some were very obvious and you could shrug off right away, while others were very patient and subtle and would lure you into thinking that they were being friendly. They would then invite you for a cup of tea at their "brother's place", and then would take you to a carpet shop run by a brother 30 years older than they were.
| | |
| --- | --- |
| | |
| Hitomi and her mother covering up their heads before entering the Mosque that contains Rumi's tomb. | Rumi's elaborately decorated tomb. |
The refreshing thing about Konya was that there were almost no touts. When people tried to talk to you in halting English, it was because they were being genuinely friendly and were interested in talking to you. As we traveled around Turkey, I tried to get a feel for what the Turkish viewpoint was on September 11th, Bin Laden, and the war in Afghanistan. I was somewhat surprised from what I heard. While the people were universally friendly and I never once felt any anti-western resentment, I never talked to a single person that believed Bin Laden was responsible for September 11th. People seemed to agree that he was not a very good person, but didn't think that he was the one that organized the hijackers. They thought that the war in Afghanistan was a ploy to get control of the region to put pressure on China and to get access to Central Asia's oil. People are also extremely nervous about comments that Bush has been making implying that they are about to start a war in Iraq. Turkey shares a border with Iraq, and Iraq strongly resents Turkey for allowing the US to have bases there. The Turks feel that if a war with Iraq starts, then people will be scared to travel to Turkey and the tourist industry will shrivel up and die.
Getting back to Konya, its claim to fame is being the birthplace of the Islamic poet and philosopher Rumi, as well as the order of the "Whirling Dervishes" that he founded. The dervishes are so-named because of a ritual dance that they perform that involves music, chanting verses from the Koran, and a dance where the participants whirl in place. Rumi is the father of this order, and his tomb is located within a mosque in Konya that is now a museum. It is a small museum, but his elaborated decorated tomb was stunning.
As we finished our tour of the museum, we were greeted by a friendly woman who was selling pottery and tiles. Hitomi's mother was interested in one of the tiles, and asked me to bargain for her. I bargained for a while and managed to knock about 30% of the price off of the tile. I didn't think that I had bargained too hard, but as we were leaving, the woman asked Hitomi if she was happy with me ... she said "he is a very hard man".
| | |
| --- | --- |
| | |
| Our fancy room with a high and ornate carved ceiling, and a "couch" that went along two walls of the room. | The breakfast room in our hotel. The pool was traditionally used to cool the room and its fountain was considered a pleasant sound to work or study to. |
From Konya, we headed north to Safranbolu which is a world heritage site famous for its traditional wooden dwellings. We splurged and stayed in one of the nicer hotels, and spent the next day and a half exploring the village. Safranbolu gets a lot of Turkish tourists, but is not really on the foreign tourist circuit. As a result, few people in the village spoke any English (even shopkeepers and hotel owners). As we pulled into town, one young fellow spoke a few words of English and asked Hitomi if she was from Japan. When she said "yes", he smiled and blurted out "ahh ... Jackie Chan".
| | |
| --- | --- |
| | |
| One of Safranbolu's traditional houses. | The mosque and Hamam (Turkish Bath) in central Safranbolu. |
At one point when we were walking around town, I noticed a lot of small domes next to the mosque. The domes all had chimneys next to them, and I began to suspect that they were kilns for firing pottery (the region is famous for its pottery). However, there were small glass skylights in the domes which couldn't have withstood the heat. Hitomi correctly figured out that they must belong to the village's historical hamam (or Turkish bath). We had planned on visiting a Turkish bath at some point during our trip, and the fact that Safranbolu was not too touristy made it seem like a good choice. So ... Hitomi and her mother went to the lady's baths, and I headed into the men's. Upon entering the bath, I was given a small towel to wrap around my waist, and then shown to a small changing room with my own private key. After changing and locking up my valuables, I then entered the bath. I was surprised to find out that a Turkish bath has no water to enter. Instead, you sit in a large steam room where the steam softens your skin and loosens the dirt. After having enough of the heat and humidity, you can then either bathe yourself or have an attendant do it for you. I chose to have the latter in addition to a short massage. I was greeted by a short stocky attendant with thick eyebrows over dark deep-set eyes, and well muscled arms that indicated he had been doing this for a while. The attendant had me lay down on a large marble table and then proceeded to work me over. Much of the massage was like massages I had received in the past, although the Turkish version was definitely rougher. At one point, he grabbed my arm and started jiggling it a bit. It felt kind of good and I started to relax when he gave the arm a quick tug almost pulling it out of the socket. After working me over for about 5 minutes or so, I was then led into another room to be bathed. There was a tap with hot running water, and he proceeded to fill a small bucket and soak me several times. I was then thoroughly scrubbed with a rough brush that visibly removed several layers of my skin. Next, the soap came out and I was washed head to toe (with the exception of my privates) with a sponge before being rinsed off. I was then left alone to finish cleaning up. Afterwards, I headed back to the main room where I was wrapped in towels and given a glass of hot tea. After relaxing for a while I changed back into my clothes, and headed back towards the hotel feeling cleaner than I'd felt in a while.
| | |
| --- | --- |
| | |
| The theater at Epheus. | The Epheus library. |
After Safranbolu, we headed back to Istanbul where Hitomi's mother caught a flight back to Tokyo, and Hitomi and I took another night bus down to the well preserved Roman ruins of Epheus. Epheus was a major city in Roman times (and is the city to whom Saint Paul wrote his "Letter to the Ephesians"). The city drew its wealth from a harbour that it was situated on, and later fell into decay when the harbor silted over and the city could no longer be used as a port. The people moved away and the city fell into ruins, but the size and wealth of the city is obvious to today's visitor. The largely intact theater was capable of holding 25,000 people, and as you wander around the city you can see where there were public baths, public toilets, separate pipes for running water and for sewage, marble streets complete with ruts from chariots, market areas that were pedestrian only, large temples, and a city hall complete with magnificent statues and apparently a flame that was never allowed to extinguish.
| | |
| --- | --- |
| | |
| The "cotton castle" of Pamukkale. | Hitomi standing next to some of the thermal baths. |
After our visit to Epheus, we went inland to the ancient Roman spa town of Hierapolis (now known as Pamukkale). The sight upon reaching Pamukkale is unlike anything I had ever seen before. As we approached the town, I thought I saw a large snow covered peak in the distance. I then realized that the "peak" was actual a nearby hill, and it was not snow but actually mineral deposits. There is a lot of thermal activity at Pamukkale, and the constant bubbling up of hot water leaves a mineral deposit that is as white as snow. The Romans founded a town here to take advantage of the curative powers of soaking in the springs, and built a spa complete with a large bath at the top.
| | |
| --- | --- |
| | |
| The thermal bath built on top of the original Roman therapeutic bath, complete with ruins that you step over as you bathe. | A small cave that gives off poisonous gases. |
You can swim in the area that was formerly the Roman bath, and as you swim in the pool, you are actually climbing over the ruined columns of the Roman sacred pool that once stood there. Around the corner from the spa, there was also an oracle located at Pamukkale. The temple is built upon a spot where a small stream in a cave gives off poisonous volcanic gasses (if you approach the cave, you can hear the hissing of the gasses still spewing forth). The local priests used to brag that they were immune to the effects of the gases, but would demonstrate the toxicity by throwing small animals into the cave and watching them die. One theory is that the poisonous gases contributed to the visions that the priests had by causing hallucinations.

Hitomi standing in the ruins of an interesting octagonal church. The photo is almost 180 degrees, and was taken with the digital camera's "stitch mode".
In the surrounding hillsides above the bath, there are more Roman ruins to explore. While not as well preserved as those at Epheus, there is still a spectacular theater capable of seating 12,000 people, a large necropolis (cemetery), and up the hillside a ways there is an old ruined Christian church. The church is octagonal and is flanked by 8 symmetrical chapels, the ruins of which you can see in the above photo. The church is built on the site where it is believed that St. Phillip the Apostle was martyred.
| | |
| --- | --- |
| | |
| The father of Turkey "Attaturk" looking out from Marmaris Bay. | The boat that we took to travel from Turkey to the Greek island of Rhodes. |
From Pamukkale, we headed to the seaside port of Marmaris. Marmaris is unremarkable in itself, although it is situated on a very pretty harbor which Lord Nelson once used in preparation for an attack on the French. For us, the attraction was the tri-weekly 45-minute hydrofoil ride to the Greek island of Rhodes which we took the day after arriving. That is where we are currently, and I will write more on that later.
Ron & Hitomi
(Click here to go back to www.rangda.com, or here to go back to www.rangda.com/travel/ron)
Miscellaneous People Photos
Miscellaneous Food Photos

Making bread ... the doughnuts that you see are a bagel-like bread covered with sesame seeds that was a delicious way to start a day.

Turkish tea. As much as you hear about Turkish coffee, tea is definitely the national drink of Turkey. I think we only saw people drinking coffee twice during our trip.

One of the many types of delicious bread. I don't think I have visited a country where the bread is as good and as varied as it is in Turkey. If you like bread and meat, you will dine well in Turkey (Turkey's other specialty is various forms of grilled meats).

A typical Turkish breakfast. Freshly baked bread, an egg, honey and jams, butter, cheese, tomatoes, cucumbers, olives, and a few slices of an orange.
(Click here to go back to www.rangda.com, or here to go back to www.rangda.com/travel/ron)